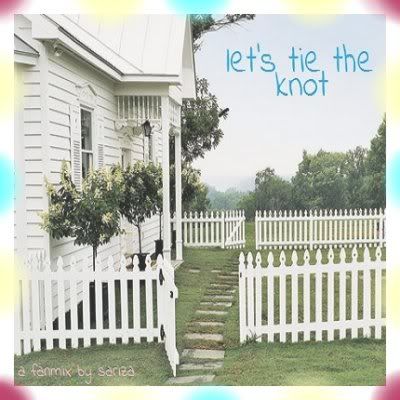 Let's Tie The Knot:
A musical journey into love and settling down.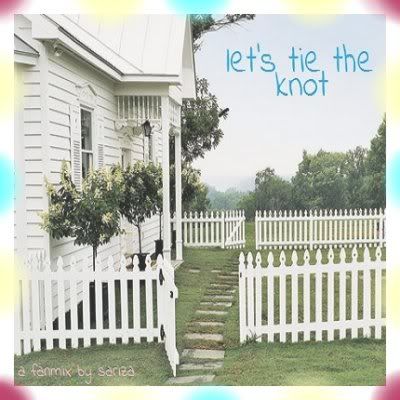 Mushaboom...Feist
Helping the kids out of their coats
But wait the babies haven't been born
Unpacking the bags and setting up
And planting lilacs and buttercups

Watching the fire as we grow old

I got a man to stick it out
And make a home from a rented house
And we'll collect the moments one by one
I guess that's how the future's done

Simple Life...The Weepies
I'll kiss you awake, and we'll have time
To know our neighbors all by name
And every star at night.
We'll weave our days together like waves

The Idea of Growing Old...The Features
We can talk all night, we can talk all day
We can play charades when there is nothing to say
You turn me on to the idea of growing old

Settle Down...Kimbra
I wanna settle down
I wanna settle down
Baby there's no need to run
I'll love you well
I wanna settle down
It's time to bring you down
On just one knee for now
Lets make our vows

Babies...Natasha Bedingfield
I wanna have your babies,
I see them springing up like daisies.
'Cos in my head there's a slot machine,
And i'm betting your the one in my hopes and dreams.


Marry You...Glee Cast
I think I wanna marry you.
Well I know this little chapel on the boulevard
we can go.


Marry Me...Nightmare of You
with indefinite fate I clutched you by the shoulder
and said "Girl, I barely know you...
but will you marry me?"


Marry Me...Train
Together could never be close enough for me
To feel like I am close enough to you
You wear white and I'll wear out the words, "I love you"

I Wanna Grow Old With You...Westlife
I wanna grow old with you
I wanna die lying in your arms
I wanna grow old with you
I wanna be looking in your eyes
I wanna be there for you
Sharing in everything you do
I wanna grow old with you


Walking Her Home...Mark Schultz
He walked her through the best days of her life
Sixty years together and he never left her side


I Wanna Grow Old With You...Adam Sandler
I'll miss you, kiss you
Give you my coat when you are cold
Need you, feed you
I'll even let you hold the remote control


Married Life...Michael Giacchino
Instrumental


download:I Do.